Ubuntu BusinessPack 20.04 Distribution Release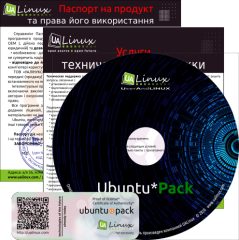 The distribution kit is based on the operating system Ubunt*Pack 20.04 (Like Win), which allows its long use, includes all its innovations and has an interface familiar to most users.

It is an ideal solution for using it on personal computers, laptops:
✔ in the corporate environment of the enterprise;
✔ in government agencies;
✔ on your computer at home and in the office.

It additionally adds:
✔ the ability to register and work in MS AD and FreeIPA domains
✔ monitoring the state of the computer via the local network
✔ PDF viewer utility - FoxitReader
✔ utility for viewing audio / video / images - xnView
✔ work with remote access - AnyDesk
✔ KVM virtual machine management client
✔ creating an isolation sandbox (firejail firetools)
✔ complex of cryptographic protection of information AT "ІІТ"
✔ support for crypto keys
✔ advanced tools for launching Windows applications
✔ powerful interface for working with archives - Peazip
✔ utility for displaying information about the computer hardware - CPU-X
✔ VPN client connect to Windows using SSTP protocol
✔ Flash support in Chrome / Chrmoium browser
✔ utility for burning Windows ISO image to USB drive.
You can get acquainted with the distribution kit in more detail on its page.

The functionality of this distribution kit is also present in the "Protected Ubuntu*Pack 20.04", which has an expert opinion from the SSSCPI of Ukraine.