Windows GamePack
---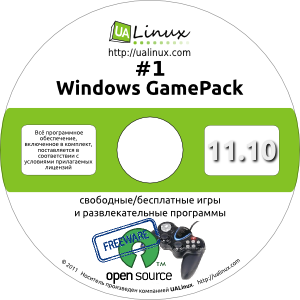 GamePack 11.10
- большой выбор игр различного жанра
Вам интересно посмотреть какие свободные игры есть для Linux, но Вы еще не готовы отказаться от Windows - тогда Windows GamePack для Вас.
( возможно использование с Windows XP, Vista, 7 )
OpenSource(СПО) это не только Linux, как привыкли думать многие.
СПО может постучаться к вам в дверь даже если у вас на компьютере Windows
Приобрести на носителе
Загрузить...
---
Windows GamePack - на данный момент является самой большой коллекцией свободных игр различного жанра для Window. Комплект будет интересен игроману любого возраста. Здесь вы сыграете и в классические шахматы, разгадаете загадки, выполните фигуры высшего пилотажа за штурвалом самолёта над мегаполисом, почувствуете себя гонщиком, сразитесь на космических баталиях в бескрайних просторах космоса, построите город и постреляете по врагам из автомата в современном шутере и окунетесь в виртуальный мир  многопользовательских интернет-игр.
Здесь включены наиболее известные игры для Windows, распространяемые под свободными лицензиями, но это не значит что это все. Игры которые включены в комплект - это всего лишь малая вершина айсберга.
На диске преобладают программы OpenSource, но также есть бесплатные и демонстрационные.
Все представленные игры также есть и для Linux-платформ.
---
Список игр на DVD 1 (3.7G) - 24 игры
MMORPG (Многопользовательские онлайновые ролевые игры)
Daimonin Online —
IConquerU —
RuneScape —
Savage XR —
Savage 2: A Tortured Soul - игра в жанре фэнтези и научной фантастики

RPG (Ролевые игры)
Freedroid RPG - изометрическая RPG по мотивам Paradroid
SoulFu - Графическая ролевая игра наподобие Rogue
The Ur-Quan Masters - Межгалактические приключения

Симуляторы
corsix-th - Open source clone of Theme Hospital
GL-117 - cимулятор полетов
Lincity - градостроительный симулятор с изысканной графикой
Snowglobe - новый просмотрщик для Second Life
Unknown Horizons - экономический RealTime симулятор с элементами стратегии

Космическое пространство
The Babylon Project - переделка Babylon 5 под FreeSpace 2 SCP

Спорт
Maxi Mini Golf -

Стратегии
0 A.D. - A war/economy strategy game
Bos Wars - футуристическая стратегия реального времени
FreeOrion – пошаговая игра, цель которой исследование космоса и завоевание галактики
Glest — бесплатная 3D стратегия
megaglest - a free 3D real-time customizable strategy game
Pax Britannica - One-button real-time strategy game
TripleA - Пошаговая стратегия
Warzone2100 - 3D стратегия рельного времени
Widelands - фэнтезийная стратегия реального времени
| | |
| --- | --- |
| | |
Список игр на DVD 2 (3.8G) - 36 игр
Логические и Головоломки
Too Hard For You - Слишком сложно для тебя
Angry Drunken Dwarves - головоломка типа "падающих блоков"
Biniax-2 – логическая игра с аркадным и тактическим режимом
Caph - Игра типа "песочный ящик", основанная на законах физики.
Deadly Cobra – подобная классическим играм Nibbles(tm)
Fish Fillets – пазловая игра про остроумную рыбку, спасающую мир
jag - аркадный 2D пазл
JAMP – игра с использованием быстроты реакции
Nimuh – пазл игра основанная на "Theseus and the Minotaur Mazes"
Numpty Physics -
OGS Mahjong -
OpenAlchemist - Открытый Алхимик
PipeWalker - соединить все компьютеры в сеть
PyTraffic - a Python version of Rush Hour
The Butterfly Effect - это физика игры о причинах и следствиях.
vertris – клон Tetris
Zaz – игра пазл
MMORPG (Многопользовательские онлайновые ролевые игры)
Auteria Online —
Dofus - тактическая многопользовательская ролевая онлайн-игра
Eternal Lands — клиентский пакет для Eternal Lands, бесплатной MMORPG
Heroes of Newerth - стратегия в реальном времени
Project Diaspora - 2D Space Trading MMORPG
PlaneShift - MMORPG 3D игра в стиле Fantasy
Гонки на машинах
Mania Drive - свободный клон Trackmania
Super TuxKart - игра в гонки на картинге
VDrift — Cross-платформенный открытый симулятор
Симуляторы
Flight Gear Flight Simulator - Симулятор полётов
Стратегии
8Kingdoms - 3D пошаговая стратегия
Freeciv - Пошаговая стратегия Civilization
FreeCol — свободная версия Colonization
Globulation 2 - новаторская ультрасовременная стратегия реального времени
MegaMek - сетевой Java клон BattleTech
netPanzer - он лайновая многопользовательская тактическая игра
Spring RTS - стратегия реального времени
UFO Alien Invasion — создай свою команду и останови пришельцев
The Battle for Wesnoth — пошаговая стратегия
| | |
| --- | --- |
| | |
Список игр на DVD 3 (3.7G) - 36 игр
Аркады
ardentryst - Action/RPG сосредоточено на историю и развитие персонажа
BRIQUOLO - 3d Breakout в быстром темпе
BZFlag - 3D-игра от первого лица, танковое сражение
Extreme Tux Racer - 3D гонки с Туксом, пингвином Linux
Frogatto - 2D platformer game starring a quixotic frog
Go Ollie! - Go Ollie!
goonies – ремейк 8-ми битного 'The Goonies'
Hannah's Horse - Ориентированная на детей игра в стиле Pacman
Hedgewars - Игра в стиле Worms
Open Sonic - Игра на основе "Sonic the Hedgehog"
Robombs – бесплатная многопользовательская 3D игра подобная Bomberman
Streets of Rage Remake -
SuperTux - классическая 2D аркада в жанре "jump 'n run" с Tux'ом в главной роли
teeworlds – онлайновый 2D шутер
I Have No Tomatoes - игра по уничтожению помидоров
TORIBASH! - файтинг нового поколения
Trackballs - Шарики в лабиринте
Yo Frankie! - 3D игра платформы текущего поколения

FPS (Шутеры от первого лица)
Enemy Territory – многопользовательский шутер
nexuiz – стремительный 3D шутер от первого лица
tremulous - Люди против чужих. Командный шутер с элементами стратегии реального времени
Vavoom - Quake-подобная игра
Warsow – быстрый 3D шутер от первого лица
World of Padman - World of Padman клиент

RPG (Ролевые игры)
Lips Of Suna - игра с элементами экшн-RPG
Summoning Wars - многоплатформенная ролевая игра
Warlock's Gauntlet - Дьяблоподобная игра

Симуляторы
CRRCsim — симулятор полета на аэроплане
Danger from the deep - симулятор подводной лодки
OpenTTD — новая реализация Transport Tycoon Deluxe с улучшениями
Simutrans — транспортный симулятор
Zero Ballistics — смесь шутера от первого лица и танковых сражений

Спорт
BillardGL - трёхмерный биллиард
Digital Paintball 2 - симулятор пейнтбола
DreamChess - 3D шахматы
Foobillard - трёхмерный бильярд, использующий OpenGL
| | |
| --- | --- |
| | |
Список игр на DVD 4 (3.7G) - 28 игр
Аркады
Armagetron - 3D Tron-like high speed game
Atomic tanks - танковые сражения
Battle Tanks - "танки" с многопользовательским режимом и разделённым экраном
irrlamb - 3D Physics Game
LBreakout2 - Игра типа ball-and-paddle с приятной графикой
Legends - Fast-paced FPS online multiplayer game
Lugaru HD - Third-person action game about an anthropomorphic rebel bunny rabbit
Neverball - 3D игра с наклонным полом
OpenLieroX - Клон Worms с поддержкой сетевой игры
Paintown - Paintown 2D игра драка
Pingus - Игра создана по мотивам игры Лемминги (Lemmings)
Rocks'n'Diamonds - Аркадная игра
scorched3d - 3D артилерийская игра подобная Scorched Earth
Secret Maryo Chronicles — беговая и прыгучая игра подобна Super Mario World
Sonic Robo Blast 2 -
Warlock's Gauntlet - динамичный шутер с видом сверху
wormux — смешная 2D игра
xmoto - 2D мотокроссовая игра

Редакторы
Sandbox Game Maker – корпоративная 3D игра разработанная для детей

FPS (Шутеры от первого лица)
OpenArena - быстро развивающийся трёхмерный шутер от первого лица
Red Eclipse - Single-player and multi-player first-person ego-shooter
Sauerbraten – оболочка 3D игры от первого лица
Smokin' Guns — Quake 3 движок основан на играх про "Old West's"
Optimized Urban Terror – Optimized Urban Terror client binary

Музыка
Frets on Fire — игра для тренировки музыкальных навыков и быстрых пальцев
Performous - караоке с поддержкой пользовательских песен
sm-ssc - Advanced fork of StepMania
StepMania - симулятор танца.
| | |
| --- | --- |
| | |
Список игр на DVD 5 (3.8G) - 15 игр
Редакторы
Syntensity - Платформа для 3D игр

FPS (Шутеры от первого лица)
Alien Arena — Одиночный 3D онлайн шутер от первого лица
America's Army - v.2.5.0 -
Assault Cube - realistic first-person-shooter
Revenge Of The Cats - Fast-paced, team multiplayer FPS
True Combat Elite – модификация An Enemy Territory

Гонки на машинах
Speed Dreams - Симулятор гонок
StuntRally - Rally game with stunt elements
Tile Racer - 3D каскадерские гонки
The Open Racing Car Simulator - трёхмерный (OpenGL) симулятор гонок

Космическое пространство
Funguloids - space-flying-mushroom-picking-simulator game
NAEV - 2D игра соревнования в торговле
Oolite - космо-симулятор Oolite портативный для GNUStep/OpenGL linux
Vegastrike - 3D космические сражения

Спорт
Out Of The Park Baseball 12 - симулятор бейсбола
---